Watching Episode 2, Season 10 of
Spooks
is making me think several things - first, man I am going to miss this show when its gone. Just 4 more times will I be able to really experience the stress and tension of not knowing what's coming. I'd forgotten how amazing the show is when you're seeing it fresh and clueless.
If you're curious about how I'm doing this (watching
Spooks
) I will tell you. But then I'll have to shoot you. No, just kidding. I just don't want to say too much and jinx it. (After all, I still have 4 more episodes to go.) If you're outside of the UK and in this same boat of desperation, write to me, I'll try to help . . . .

So, anyway, PLEASE, if you haven't seen Series 10, episodes 1&2, don't read any further. I wouldn't want to ruin the experience for you. The following discussion contains SPOILERS.
Episode 2 was much better than number 1 for me. It was tense, exciting and nerve wracking...whereas number 1 just felt odd and awkward, like when you return to visit a place you used to work and no one quite knows what to say to you; there was little collective spark as the team limped into action on the grid. The sequence in the ballroom was very well done, but other than that, Episode 1 felt like a patchwork -- concerned with quickly developing some new characters, tying up a few loose ends on the Albany fallout, introducing a new plot theme, and dragging the viewer into the season.
But episode 2 felt more like old times. The mood was right and the characters beginning to gel. Overall it was great until they killed off one of my favorite characters.
OK, I'm not kidding, STOP reading now
, because I just have to out with it (therapeutic, you know, to write about this) and I know you don't want to know if you don't already know. . . .
(Shh, ... it was Tariq). Beautiful techie Tariq. He was such an awesome character who represented so much, who was a connection to past teams and a tie to when the show sparkled with chemistry. Youthful and incredibly talented. This is making me very unhappy :( And with his loss, we now have just Harry and Ruth with a history that outlasts one season. Tack on Dimitri who was with Harry and Ruth last time around and that's it for our continuing characters! You can feel the groundlessness. The season desperately needs connection and chemistry, which I hope we get soon.
The new characters are Erin Watts and Colum (no idea on how I should spell that nor what his last name is supposed to be) and don't feel like looking him up. Erin is a much better character than I expected. I will even say that I like her. And I trust her. She seems ready to do things the Harry Pearce way and that has to be a good sign. She is halfway between Fiona and Ros in her style of spookiness. But, I don't care for Colum at all because he was rude about Harry and condescending to Tariq in the first two episodes and then got himself mugged. Really. I doubt he'll have time in the few shows left, to work his way into my good graces. Tho he's welcome to try...
Even though our main character team seems scanty, the plot is interesting and I'm enjoying the exploration into Harry's cold-war-era past. Harry's former Russian asset/lover, Elena, is interesting enough but has no real spark with Harry. They just look wrong together. I appreciate that Elena, played by Alice Krige, must have been an extremely attractive spy for whom Harry would have fallen back in the day. But she now looks pulled-tight and wrong. I hope I am not off-base, but she looks as if she's had too much surgery. One of the things I love about
Spooks
is that mature actresses who play deep and complex roles don't typically have a Hollywood plasticy to them. (Take Gemma Jones who played Connie James and who, according to IMDB, was born in 1942 making her more than 10 years older than Krige. A real-looking woman and very appealing). Krige is in her late 50s and is an age-appropriate partner for Firth's Harry Pearce, but she is too preserved.
Its not the fact that she's aged that makes her seem wrong for Harry now. Its that she's aged but she thinks it doesn't show, that makes her wrong for him; not to mention that she's stilted and scary. If Harry falls for her now, I will be disappointed. I am sure he has some residual feelings, but there's no doubt in my mind where Harry's heart lies. It shows plainly on his face when Ruth declares that she "knows her role," when she's hurt by him keeping her at bay. Harry bares his torment and love when she says this. He can't stand hurting Ruth.
The Elena situation reminds me of how in series 4 we were presented with Juliet Shaw as a character meant to spark lust or love or to enliven Harry. But it didn't work. Because something so much better was already going on...with Ruth. Bring it on Elena and if you can create some sparks I'll give kudos ;) but I'll be more than a little surprised if you're the route Harry follows.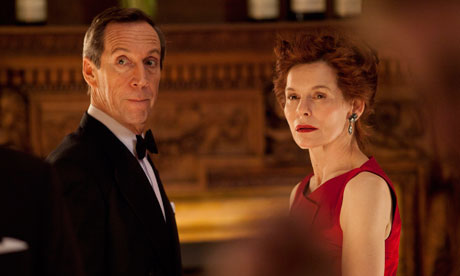 I will be watching (I hope!) and am so thankful that, despite its flaws,
Spooks
is around for a few more turns as the best possible hour of TV viewing that exists. ...Still interested and want to read on ... I didn't write about episode 3, but here are
my thoughts on episode 4.